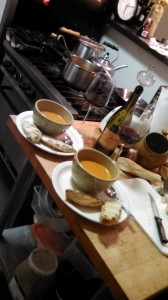 What to do? What to do? What to do?  A winter's day ripe for hot tomato soup and grilled cheese sandwiches. But, tomato season is over and I just can't get my self to buy those pale pink, baseball hard orbs the grocer labels as tomatoes. I remember my mother trying to get the Kids to eat vegetables during the winter and serving us these rock hard, white tomatoes with a wedge of iceberg lettuce and an oversize portion of bleu cheese dressing. Yes, health was on her mind.
Now that I am on the topic, whoever thought it was a good idea to put an iceberg wedge salad on a restaurant menu anyway? Did you not grow up in the 60's or 70's?? We have so many more better tasting options than a crispy, crunchy facsimile of food which I find tastes exactly like water.  All iceberg lettuce has ever done for me is thin out the bleu cheese dressing. Better to serve a nice chunk of Roquefort with a glass of water.  Just sayin'.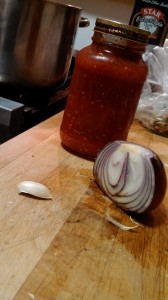 Anyway, this weekend the rain was coming down and Suzanne and I were hankering for something warm and satisfying. Tomato soup sounded great but alas . . . no fresh tomatoes.  Wait!! That is not entirely true. While they were not fresh off the vine in the minute, I did have a jar of tomatoes that I put up right after picking.  I reached into my pantry and came out with a quart jar of lovely ripe, stewed tomatoes.  One of the great challenges of having an edible garden is using all of its produce.  This year I went heavily into tomatoes and was rewarded with a bumper crop. Take a minute to review my Pop Goes the Basil!! post to witness the results of my green thumb.
So out comes the jar of tomatoes, a red onion, some garlic, chicken broth and a heavy splash of whipping cream left over from Thanksgiving.  I started with half the red onion finely diced and 6 cloves of garlic sliced sauteing in olive oil in a stock pot. After about 3 or 4 minutes I dropped in the the tomatoes and let them all stew together for a few more minutes.  On top of that I add a quart of chicken broth, unsalted, and brought it all to a boil for about 5 minutes.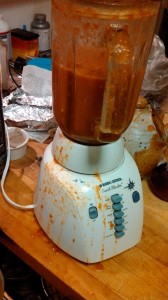 The next step is  my favorite.  I like to blend my soups. Now some cooks like to use immersion blenders, those little electric motor sticks with wimpy little blades that barely move your soup around the pot. Me, I like using a blender on low speed until I get the texture I want.  And . . . every once in a while I forget to keep my hand on the lid and oops, I get a little messy. Occasionally I will strain my soup to remove any extra chunky bits.  I tried that this time and was not happy with the results so I dumped the solids back into the pot and was happy that I did.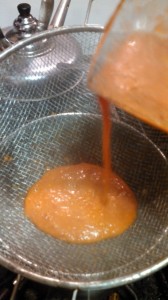 Giving the puree' a taste test I found the soup to be  a little flat so I added just a pinch of kosher salt. Wow!! Did that pick the flavors right up.  Normally I would add some acid to brighten the flavor but the tomatoes brought just enough to the dish so no vinegar was needed.
Now one of Suzanne's jobs, in our relationship, is to make sure we don't overindulge in bad or fatty ingredients.  Take a minute to look at her audition video for the Next Food Network Star.  In it Suzanne makes a surprisingly good Massaged Kale Salad.  She made this salad for me one night and I predictably rolled my eyes and turned up my nose . . . until the fork hit my mouth.  It's a great recipe and kale is a great food for the body.  But . . . this time Suzanne failed me.  Thank goodness!! She MADE me pour the half cup of whipping cream into the soup.  She was right and the taste was amazing.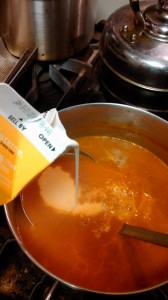 Fortunately for me she did not stop there.  Suzanne also whipped up a little fresh pesto which she used to coat a slice of freshly baked baguette.  On top of which she added slices of Gruyere and Mozzarella.  Get that all melty in the toaster oven and Man!! What a meal.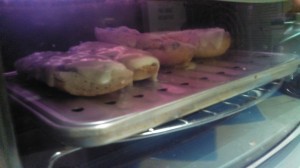 So, this last rainy weekend, Suzanne and I tucked into freshly baked bread topped with pesto and cheese with a steaming hot bowl of tomato cream soup. Took the shivers right away. My advice is: If you find yourself wanting for grilled cheese and soup one rainy day, dig a little deeper into the pantry and see just what might make make the day a little brighter.
Eat Well and Smile Often,
tj
p.s. Leftovers!!