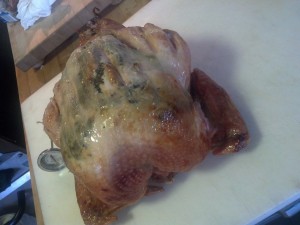 My turkey roasting technique that is!!
I recently read a blog post by Darya Pino of Summer Tomato on How to Become a Great Cook Without Being a Chef.  She's right! You don't need to be a chef to cook really good food. But, (and this is a big BUT sticking out) you do need a few of Chef's techniques.
When I studied at the California Culinary Academy the focus was on learning technique, not so much on recipes.  The philosophy is simple: If you understand how and when to incorporate each ingredient into a dish you can create your own recipes.  And it is true!!  By learning HOW to cook, not only was I able to create my own dishes, it became much easier to follow a recipe.  Sounds silly I know, most recipes are well research and clearly written. Yet, when I incorporated my knowledge of cooking with say – Betty Crocker – goodness, the dish took on new textures and flavors.
It is this nuanced change that I am referring to when I say Upside Down and Backwards.  Because that is exactly what I did.  I roasted my turkey upside down and backwards.  Follow me here, this is where it starts to get good.
The challenge for every cook on Thanksgiving is to cook the turkey making sure that the legs & thighs are cooked while keeping the breast meat from drying out and becoming stringy.  Americas Test Kitchen performed a definitive study last year on turkey roasting trying all of the different roasting techniques and endorsed a good, albeit cumbersome, technique for preparing your bird: they cut the turkey into pieces and roasted the legs and thighs separately from the breast.  Boo, I say. That takes away all of the fun of carving for dad!
I acknowledge the reasoning behind this approach but promise you one better. Actually FOUR better!!  Now Darya Pino, this is where being a chef does make a difference. Chef Suzanne and I put our heads together determined to roast a turkey whole while keeping it moist and giving it great flavor . . . and we nailed it the first time out.  Here's what we did.
BRINING: Brining is a technique where the turkey is submerged in a saturated water mixture containing salt, sometimes sugar and oftentimes spices.  It is a fun technique but takes time and refrigerator space. Sometime in the future I will share a recipe with you but for now I give you this short cut: Butterball.  Yep, we bought a Butterball turkey simply because it was already brined.  Butterball has been in business since before I gnawed on my first turkey leg and I trust their technique.  I was not wrong then and I am not wrong now.  Their birds are flavorful.  But alas, I have had dry Butterballs before. So . . .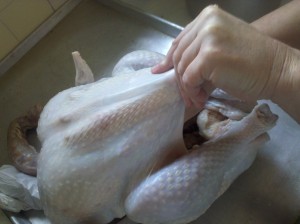 HERBED BUTTER: Here is a technique I just love.  Suzanne and I took a half pound of soft butter and mixed in about 6 cloves of chopped garlic, salt and pepper to taste, and a small bunch each of Sage, Marjoram and Thyme chopped fine.  We then loosened the skin covering the breast of the turkey and rubbed the Herbed Butter directly on to the meat.  A lot of people will season the skin leaving the meat unadorned.  I use this technique nearly every time I roast fowl.  It always amazes!! I suggest that you thaw the bird the night before, pat it dry, rub in the herbed butter and leave it covered with plastic in the refrigerator overnight.  Then it is all ready to pop in the oven on Thursday with a little extra flavor-infusing time.
UPSIDE DOWN: I like this technique a lot especially with turkeys because of their size. Bigger is better may be the American motto but it can play hell when roasting. Three factors come in to play when roasting: Time, Temperature and Gravity. With gravity being the only constant. Since I cannot change the effect of gravity I decided to use it to my advantage.  I roasted my bird Up Side Down!! The effect was simple, all of the juices collected in the breast meat instead of the back of the bird.  Yum!!
TIME & TEMPERATURE: Here's the secret sword thrust of roasting. Start your turkey at 450° F. That's right, low and slow works for BBQ meats that are full of collagen and you want to fall apart. Starting hot and fast . . . well . . . it's better, that's all.  Actually this is how I understand what is happening.  Collagen, the 'moisture' in the bird, is water soluble. In a slow oven, low temperature, the water temperature in the meat rises slowly and begins to drain from the meat carrying the collagen away with it, essentially drying out the meat.  The longer the meat temperature stays at or near the boiling point of water the dryer the meat will become. Starting in a hot oven will push the meat temperature passed this mark more quickly leaving less time for the collagen to dissolve into the water.
Here's the trick behind the technique. Start your turkey, upside down in a rack, in a 450° F oven.  Leave it there until the bird 'starts talking to you.' That is, until you can here the turkey snap, crackle and pop. About one half hour.  Then turn the oven down to 325° F. About 2 hours in to the roasting process check the thigh meat with a meat thermometer. Your goal is 175 -180° F for the leg and thigh and 170° F for the breast.  My 13 lb. bird took about 3 hours to cook completely through and MAN was it good.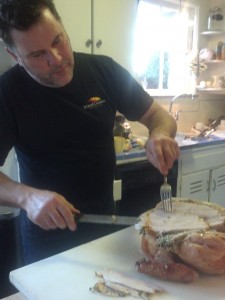 After the turkey reaches the desired internal remove it from the oven and let stand about 20 minutes before carving.  Suzanne and I had great success with this bird.  Both the white meat and dark meat were moist and flavorful.
I hope that your bird turns out as great as mine did.  Stay tuned this week for Pan Gravy and Side Dish recipes.
Until then,
Eat Well and Smile Often!!
tj
p.s. I get two turkeys this year ;-)