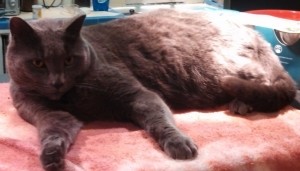 But at least my shoes are not still warm!!
With the holidays over, the sun still in hiding and my garden overgrown I am experiencing some S.A.D.-ness. Seasonal Affect Disorder.  Yep, I am a bit sad.
I should not be.  I have a great girlfriend, plenty of work and a full head of hair.  For which I am Thankful (girlfriend), Thankful (work), Thankful (vainly so.)  By all measures in life (my big 3) I am comfortable and happy and yet this last 2 weeks I have felt . . . ho – hum.  I am not whining mind you but to be honest this feeling is leaving me a little uncomfortable.
Now local DJs Sarah & Vinnie on Alice Radio 97.3 here in San Francisco, recently had a show where they described the worst week of the year.  The holidays are over, your credit card bill comes in the mail, it is dark outside when you leave the house and dark when you get home, and the car is covered with ice every morning.  No wonder I am feeling off my mark. It is the worst time of the year!
Funny aside: When I was catering on Motion Picture sets,  shortly after I graduated culinary school, I commented to one of the teamsters how depressing it was working long hours, leaving the house before sunrise and returning after dark.  He replied,  "That's nothing.  The worst is going to bed and waking up to find that your shoes are still warm." Point made!
I share this because this S.A.D.-ness comes to me the same time every year and every year I have to do something big to shake it.   Take for example this picture of  my prized garden. Looking at this every day is not helping.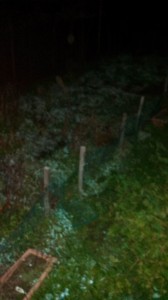 All dark and overgrown, like nobody loves it.  (You may insert your own sad face emoticon here if you like.)
So!  There is only one thing to do:Tear it all out and start again.
Please stay tuned for my next post coming the first week of February.  I will be tearing up the garden, building new raised beds and making a fun little hanging-out-space. Until then I hope you too are beating back the S.A.D.-ness.
Eat Well and Smile Often,
tj
p.s. You could never in a million years  have convinced me that putting on cold shoes is a good thing.  I guess you really do need to walk a mile . . .