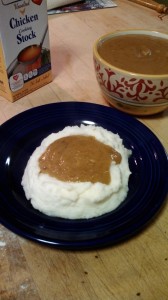 Ah! The magic of Thanksgiving lies not in the gratitude we openly express for life's gifts, large or small.  No, no, no . . . the magic lies in the GRAVY!!
Pan Gravy!!  Just the way my mother used to make it; and her mother before her and her mother . . .  I came from a large household with lots of cousins with assorted and attached aunts and uncles.  Often times there would be 13 kids and 10 adults sharing turkey dinner each year.  It was great fun playing with my cousins and watching the Wizard of Oz. But the best fun for me was enjoying the ample amounts of mashed potatoes and gravy. They had the best of love and experience that mom and grandma could mix in.  But it wasn't until I started having my own Thanksgiving dinners that I discovered leftovers!  Turkey sandwiches with cranberry sauce and stuffing for lunch.  Yum!!  But I must confess, I still rush home every day just for mashed potatoes with gravy as a snack.  Hits the spot like no candy bar ever could.
Over the years I have played with my mashed potato recipe by adding garlic, milk, cream, butter, sour cream and potato cooking water. Each one by themselves was fine but never quite right.  This year I concentrated on cooking the potatoes just right and added butter, sour cream, salt and white pepper to taste.  They are wonderful.  Light, fluffy, full bodied, great creamy texture and a perfect foil for the gravy. (Check back Wednesday for the recipe.)
Gra-a-a-a-a-v-y-y-y-y!  The best way to say gravy is the way Homer Simpson says it.  Gra-a-a-a-a-v-y-y-y-y!  Now I learned a thing or two at the CCA and sauces was chief among the finer points of my education.  There is a step by step process for every sauce with patience being the key factor for every preparation.  Each step must be executed perfectly or a substandard sauce will result.  Not so much with Pan Gravy.
Pan Gravy is very straight forward to make.  Some cooks choose to roast the neck separately and then simmer it in water while the turkey is roasting using this liquid to add flavor to the gravy.  Others cook the giblets, grind them and toss them in the pan to add flavor as well.  I can certainly recommend both of these approaches but I have a far simpler recipe, one that will reduce the level of stress in the kitchen while providing an excellent sauce for your bird, stuffing, potatoes and tongue!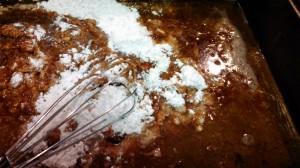 After you have taken the bird from the oven, remove it to a dish or cutting board to stand for about 15 – 20 minutes before carving.  This is the time to knock out 'Le Piece de Resistance' of the meal: the pan gravy.  Start by placing the pan across one or two burners of your stove and turn them on low.  Just enough that the fat and juices begin to bubble.  For my 13lb turkey recipe there were enough drippings from the bird and the herbed butter to need about 2/3 cup of flour to thicken.  This is a judgment call on the cook's part.
While the measurement is not critical, a sharp eye should be kept to monitor the consistency of the roux you are making. If the roux is too stiff do not worry, it will just take a little more broth to get the right consistency.  If it is a little runny then add more flour a tablespoon at a time until it just holds together.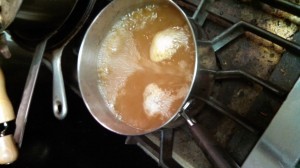 Whisk the flour and all of the drippings together over the low heat and cook the roux until it bubbles and gets a little fluffy, stirring occasionally to even out the cooking. This process literally opens up the starch in the flour and allows it to absorb more liquid than when it is raw. While the roux is cooking, place some chicken broth in a separate saucepan and bring it to a gentle boil. If I could find a commercial source for turkey broth I would have used that. In the restaurant there were always turkeys being roasted for sandwiches and we would save the bones and make a stock from them. Chicken or turkey, both add great flavor.  I used a 32 oz container of unsalted broth and made one quart of gravy . . . almost enough!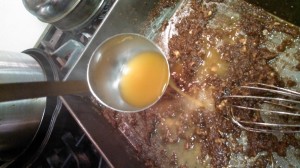 After the roux has cooked sufficiently, about 5 minutes, turn off the heat and let it cool for about one minute.  Then gently ladle in one-ladle-full of boiling broth and whisk together well.  After it has fully incorporated repeat this step 3 or 4 more times. Turn the heat back on low under the pan to cook the gravy while whisking. Having hot broth and a little bit of patience whisking it in will give you a smooth gravy, the envy of every wanna-be sauce make out there.  Turn the heat off under the broth and now you can start pouring it in to the pan in greater volumes whisking until fully incorporated each time. Heat the gravy for about 2 minutes while whisking then turn the heat off under the pan and serve.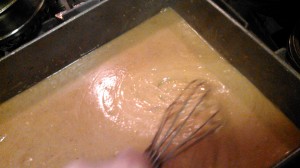 Since I used a brined turkey my drippings were already salted.  My mother would add some Worcestershire sauce for extra spice. (Fair Notice: I had to grab a bottle from the refrigerator in order to spell it correctly.) I simply stuck a spoon into the gravy then into my head and tasted it.  Lovely!! As you see in the picture above it went extremely well with my snack of mashed potatoes.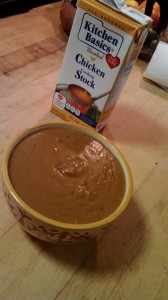 Check back Wednesday for the final installment of Thanksgiving recipes.
TIP: Buy your bird today,if you haven't already done so.  A fresh bird will last in the refrigerator until Thursday.  A frozen bird needs 2 to 3 days to fully thaw before preparation.
Enjoy and feel free to visit my Facebook page to leave any questions or comments.
Eat Well and Smile Often.
tj
p.s. My first turkey is already gone.  Time for Tom Turkey Two!!