Or "How Farro Can You Go?!"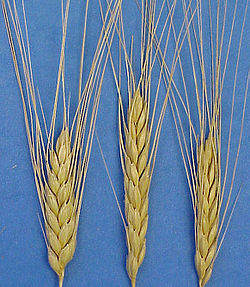 Farro is a wheat that has been grown in Italy since the Roman times when it was referred to as Farrum!  Now I really don't know how farro it can go but it has come farrum.
Enough silliness, farro is a name given to 3 cultivated hulled wheat species, einkorn, emmer and spelt, also know as farro piccolo, farro medio and farro grande respectively. They have a very hard husk and require further processing after harvest in order for us to make use of its nutty goodness inside.  While Farro was the predominant grain for centuries it has been replaced by wheat like durum which are free threshing, light hull that removes when threshing. It has made a recent comeback though as the quest for more local and bio-diverse crop systems are being planted and is often raised organically.
As a food it has a great nutty taste and a very toothsome texture. Many cooks boil it like rice in broth or add it to soups. At the Union Street Faire Sunday June 3rd I'll be assisting in a demonstration in making a risotto styled dish called farrotto.  It's made in exactly the same way as risotto except with farro instead of arborio rice.While a little time consuming the lovely creamy texture combined with the nutty flavor and toothsome quality make this a remarkable dish.
For a recipe please be sure to drop by Suzanne Griffin's website.
Eat Well and Smile Often
tj
To-farro, To-farro, I love you To-farro, you're only 30minutesofstirringinapan Aaaaa-Waaaaaayyyyyy!!!!
Many thanks to http://www.underutilized-species.org/Documents/PUBLICATIONS/farro_in_italy.pdf as the main resource for this piece