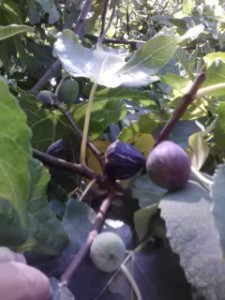 I live in a modest home. My great aunt bought this house in '46 and my grandfather planted vegetables in the spacious yard in the years following his retirement. When I got here there were 5 fruit trees.  The old apple I killed accidentally, the peach died from disease and the little plum was just too messy to keep around.  The survivors? – the pear and the fig. Old trees the pair – fruitful, happy and healthy. The pears came in over a month ago and were sweet, ripe and delicious. The fig produces 2 crops each year, one early summer and one right . . . about   . . . now!
Now every belief system has a tree of life in it. Mine happens to be the fig. It's prehistoric in shape with its misshapen limbs and over sized leaves going this way and that. The gnarled trunk shoots up, the left, then right again.  Water shoots push out from its base and each branch has a new bud bursting even now.  This tree is hearty, ugly and cool. Each year my cool fig friend shares a bounty even my dogs enjoy. Those four legged little monsters run out to the yard each afternoon and sniff around the drip line for any overly ripe figlets that I failed to harvest. For years I wondered why my mutts would gain weight at this time of year, then I saw the reason.  We ALL like them there figgys!
What to do, what to do, what to do??
So what do you do with a bucket full of figs? You eat some as you are picking – Check!  You give some away – Check!  And you cook some – Double Check!!
Figs with Blue Cheese and Prosciutto
Bunch of figs
Thinly sliced Prosciutto, about 1 -2 oz.
Bit of Blue Cheese
1/4 cup walnut pieces
Maple syrup, enough to drizzle
Slice figs in half and place on a sheet pan with foil cut side up.
Nest a pinch of thinly sliced prosciutto into the cut fig.
Place a small crumb of blue cheese on the prosciutto and then place a walnut piece on top of the crumb.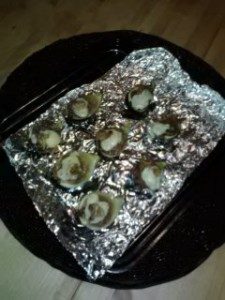 Put the pan in a 400 F degree oven for about 10 minutes
Remove them to a plate using a set of tongs then drizzle with Maple syrup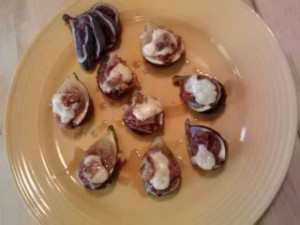 Eat 'em up yum!
Each year at this time, with fall approaching and the days getting shorter and cooler, our lives here get a little brighter, a little better, and a little more fun as we eat figs.
Eat Well and Smile Often
tj
p.s. Figs are meant to be shared so invite a few friends over, it's what life is all about!