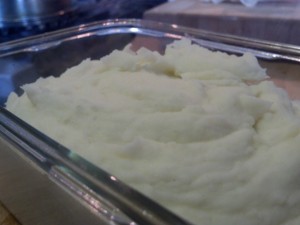 Mashed potatoes and stuffing!! Are you freaking kidding me?? Why are we not eating these with every meal??
oh . . .  :-(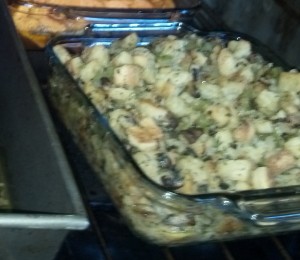 Ah the heck with it, it's Thanksgiving and I for one, like every good American, plan to overindulge this holiday season. This means that multiple helpings of mashed potatoes and stuffing will make it off of my plate, on to my fork and into my head. Fork one, napkin two, fork one, napkin two.
I won't dilly dally any longer as the DAY is nearly upon us.  Here are my tried and true,
Damn Tom, these are great, how much butter did you say was in them, Mashed Potatoes.
Serves 1 or 4 depending on personal greed
3           Russet potatoes, large, peel, large dice
1/8+      Butter stick, unsalted, soft.   p.s. I have been known to add more ;-)
1/4 c     Sour cream
salt & white pepper to taste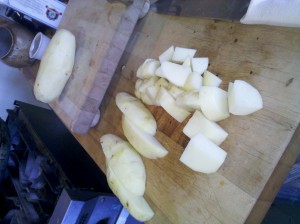 Place diced potatoes in a sauce pan with enough cold water to cover.  Add 1 tablespoon salt, place on high heat and bring to a gentle boil.  Cook for about 15 minutes checking with a fork for doneness regularly. (Yes, doneness is a word.) Place a clean colander in an empty sink.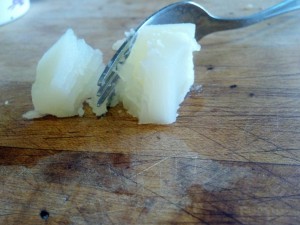 The potatoes should just yield to the pressure of a fork. Take the pot off of the heat and pour potatoes and water through the colander. Return the potatoes and place back on the stove on high heat for one minute to boil off any excess fluid.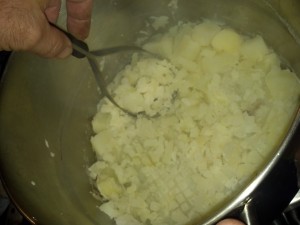 Turn the heat off and with a mashing tool mash the potatoes until the lumps are gone.  With a whisk begin whipping the potatoes.  Add the sour cream and butter and whip until the potatoes are smooth in texture.  Do not over whip. This will make the potatoes gluey.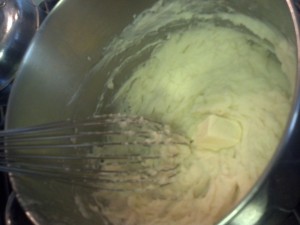 Add salt and white pepper and extra butter to taste.  Place in an oven proof dish, cover and place in warm oven to keep while your turkey is standing.
My preference is to serve with them with a tab of butter on top, then smother with gravy. Yum!!  Fork one, napkin two, . . .
This stuffing recipe I created while working on the set of Copycat with Holly Hunter and Sigourney Weaver.  One of the stage hands wanted a good fresh recipe for stuffing so I made this one up on the fly.  He reported back a few years later that my stuffing recipe has become the family favorite and that each year he has to make extra croutons so that there is enough to snack on as well as make in to stuffing.
Copycat Stuffing
Serves 1 to 4, (yadda, yadda, yadda)
1          English Muffin package, small dice
6          Garlic cloves, diced fine
1/4       Butter stick
3T        Olive oil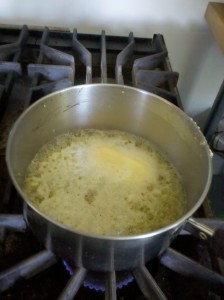 In a sauce pan place butter, olive oil and garlic.  Heat over medium heat until butter starts to bubble.  In a large bowl toss garlic butter and diced English Muffins. Place onto a baking sheet and place baking sheet in to a preheated 350° F oven. Bake until browned about 30 minutes. (This part can be done the day before with no loss of quality.) (You might want to double this part of the recipe and put the croutons out for snacks . . . damn good!!)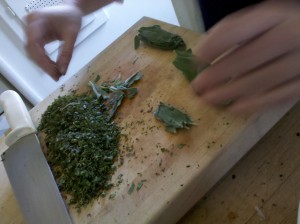 1/4 c + 2 T     Olive oil
2 c       Mushrooms, brown, sliced
salt and pepper to taste
1          Onion, white or yellow, small dice
4          Celery ribs, small dice
1          Marjoram, Thyme & Sage, bunch each, stripped of stems and chopped.
2 c       Chicken broth

In a saute' pan place 1/4 c olive oil and turn on medium heat.   Have a large soon for stirring handy.  When the oil just begins to shimmer add the slice mushrooms. Caution!! The mushrooms will splatter. I recommend wearing long sleeves.  Stir and/or toss to saute all sides of the mushroom slices.  Add a pinch of salt and pepper during this process to heighten flavor. Cook for about 5 minutes then pour out on to a paper towel and let sit undisturbed.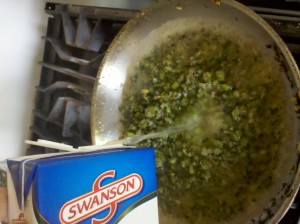 In a clean saute' pan place 2 T of olive oil and place on medium high heat. When the oil begins to shimmer add the diced onion and celery. Stir and/or toss to cook slightly. After about 5 minutes add the mushrooms and the herbs and stir.  Let cook for one minute then add the chicken broth.  Simmer over medium heat for about 5 minutes then remove from heat.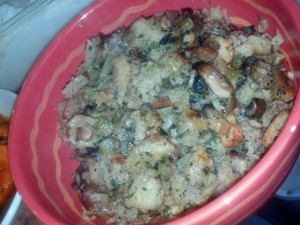 In a large mixing bowl mix the croutons and the vegetable mixture with broth.  Place the moistened croutons in to a baking dish and bake for 1 hour at 350° F.  Serve and enjoy!!
I hope that you found my Thanksgiving day recipes helpful.  They are a great part of the holiday, but the best part is sharing them with friends and family.  Have a Happy Thanksgiving!!
Eat Well and Smile Often,
tj
p.s. Fork one, fork two, fork three . . . (belch.)  Begin again!!