I've put my foot in it now.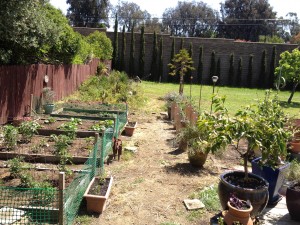 I recently listened to a debate on Intelligence Squared "Organic Food is Marketing Hype".  I feel the need to take a stand and say, Yes it is hype. This is arguably a very broad based and simple statement about a topic that is anything but simple. Throughout the debate the one thing that became clear to me is that the topic/label 'Organic Food' is about as clear as mud. I venture that if you put 5 people in a room that you would get 4 different definitions and 3 people who agree on them. But the truth is that there is no ONE definition to the term Organic and it is this ambiguity that marketers literally capitalize on.  Organic farming is good in many ways and not in many others. But as it stands now the use of the term is only employed to sell you a product not to describe its fitness.
To Explain: One faction supports the notion that organic food supplies the body with more nutrients. Yet a study in England proved there was no difference in nutrition between organically and traditionally farmed produce. Another faction worries about the damage being done to the soil and ground water.  They measure remainder pesticides and nitrogen and promote manure fertilizers and Till farming. The rebuttal is twofold: Tillage promotes soil erosion by allowing fertile topsoil to run off; and secondly, manure based fertilization does not provide as much plant available nitrogen as does chemical fertilizers  From here the argument continues with the facts that Nitrogen is Nitrogen, whatever form it comes in and that if we were to use only manure as a plant food source we would need 5 billion more cows on the planet to produce enough. Can you imagine how much more land we would need just to produce the silage need to feed all these cows!!  Cornell University's College of Agriculture and Life Sciences, published a report stating that "For every kilogram of high-quality animal protein produced, livestock are fed nearly 6 kg of plant protein."  That 6 times that amount.
No-tillage farming, farming that does not turn the soil, on the other hand, uses Monsanto products to reduce costs and increase yields. Now this creates it own set of issues as the USDA will attest to: Damage to the soil and the creation of Super Weeds – weeds resistant To Round Up.  Can't argue with science.  But here is the rub.  World population is growing exponentially with the current count at over 6 billion people. United Nations Estimates place it at 9 billion by the year 2030.  How will we feed all these people?  A study referred to in this debate said that in a side by side field test, the first year yields of organic compared to conventional farming were equal but over a 5 year period they were only 60%.
Problem: We will need half again as much arable land by 2030 to produce enough food to sustain our population growth.  If we were to go entirely organic we would need an additional 40% to maintain yields. That  means in just 20 years we would need to double the acreage we currently use just for farming and this doesn't include the acreage needed to produce more food to feed 5 billion more cows.  How many rainforests do we cut down?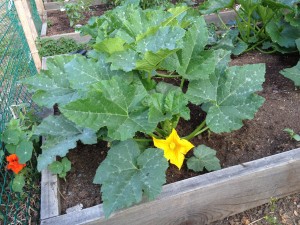 Well, I have an answer!!  We in America are lucky in that we have such an abundance of arable land right in our own back yards. If this discussion equates to a war on hunger and stopping the abuse of our planet then it's time to reinstate the call for Victory gardens.    Let us each lower our carbon footprint by not buying produce that travels all the way from some-where-else. Let us each manage our own soil conditions and employ traditional crop rotation methodology reducing the need for commercially raised products.  We MUST increase the amount of arable land in order to feed the world.  So let's start using our walls, our roofs and our backyards rather than cut down any more forests.
The picture above is my very first squash blossom of the season.  I do not use Round Up, I weed by hand but I do use Miracle Grow in combination with manure and my yields are tremendous.  My garden currently utilizes only a 20′ by 20′ section and I will have enough produce for many meals to come.  I have even re-purposed old building materials to create planters for more tomatoes.  If all you have is an eave overhang then get yourself a Topsy Turvy and grow your own or create an Edible Wall.  Each of us can make a difference and be just as Organic as we want to be.
Eat Well and Smile Often,
tj
p.s. I am so looking forward to stuffing these blossoms with organic goat cheese!