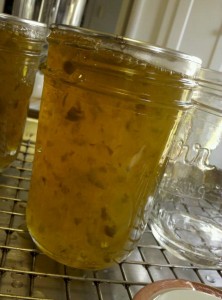 I love me some pepper jelly.
One of the very best things about having your own backyard garden is the overabundance of fresh produce.  When those little plant guys start to pop they just go crazy. Even last year with low yields it was bucket after bucket of – small – but tremendously flavorful produce. I had tomatoes galore, some eggplant, more than a few spaghetti squash and peppers, lot of peppers.  There were green bells and red bells and yellow bells and many, many, many of those spicy little serranos. (I actually took a bite out of a fresh one, right off the vine. One word: Tears!)
These were not tears of pain, but ones of joy . . . and pride, of a parental nature.  My life has been one lived in the pursuit of wanderlust.  I have enjoyed many careers, traveled to distant lands doing many things.  My experiences range from mushing sled dogs in the Yukon to spending 10 weeks cooking on Easter Island to traveling Europe by – very small – car with my best friend.  I've worked with amazing people from around the world and have learned that I only need enough for food, shelter and a pint at the pub with friends.  One joy and adventure I have not had is in becoming a parent.  I see many of my old high school classmates sharing stories of amazing children, many of whom are now graduating from college. Wow!! I'm not that old!!
While I have chosen not to have children I still recognize that desire to protect, to nurture and to share with the world the pride I have in my offspring.  So I garden. And when the garden bears fruit . . . I can.  Yes I can. That is to say, I preserve.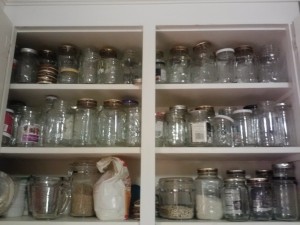 I take my little pride and joys and stuff them into jars.  All boiled and pickled and put up when they are just right and ripe. I slap a label on them, show them off to my friends and enjoy their goodness into the cold winter months of my old age.  Such good thoughtful children they are.  Never forgetting a birthday or Father's Day.  Always there when I need a little pick me up, never complaining and always at their best.  Hmmm . . .
Pepper Jelly
4 yellow, orange or red bell peppers, finely chopped (about 3 cups)
5  large red serrano peppers, seeded, finely chopped (about 1/2 cup)
1  cup cider vinegar
1  pkg. SURE-JELL Fruit Pectin
5  cups sugar, measured into separate bowl (See tip below.)
In a large pot place canning cars, opening up and lids and cover completely with water.  Jars must be full of water. Place on stove over medium heat and bring to a slow boil. Boil for about a minute then turn off heat leaving jars in the hot water.
Place all the peppers in a blender with 1/2 of the cider vinegar and blend to a rough puree.  Pour peppers in to a 6 – 8 qt spot, add , pectin and remaining vinegar and bring to a slow boil then add sugar. Return to a boil and skim foam as needed.   Cook for  5 minutes then reduce heat to a slow simmer.Turn off heat when starting to fill jars.
Turn off heat to jars and lids but leave them in the hot water.  Dip a clean ladle in the hot water and let sit for 30 seconds.  Remove one jar at a time from the water and place on a baking sheet on the counter.  With the clean sanitized ladle, scoop the very hot pepper jelly into the very hot jar to within 1/2″ of the lip of the jar.  Remove a lid from the boiling water with tongs and seal the jar immediately.  Repeat until all the jelly is put up.
Eat Well and Smile Often!!
tj
p.s. My hat is off to all the parents out there who have given so much of themselves tot he lives of their children.  And to my old friends, I invite you over for some freshly roasted coffee, a slice of freshly baked bread smeared with Golden Pepper Jelly in my garden.  And if you stay long enough I'll break out the whiskey and you can tell me the real story about parenting!!