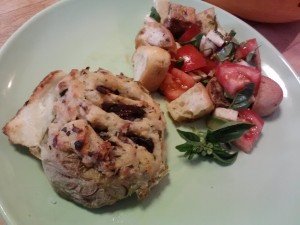 My mother, rest her soul, was a lovely, giving woman generous with her time, love and affection.  She could burn water.  Did it! Saw her!  Boiled that pan dry.
I remember one holiday dinner  as a young man when I offered to help in the kitchen. She asked me to please cook the green beans.  Of course, says I and troddled off to the freezer I did. Fresh and local were not watchwords of the 70's.  A box of frozen green beans in hand, I prepared a pan of boiling water and placed the frozen brick gently amongst the bubbles. After a few minutes the block had thawed and the green beans were heated through and through.  "Mom, I think the green beans are done." Their pale green pallor being a dead giveaway. "Let's give them a few more minutes just to be sure." came the loving, generous reply.  My career path was set that day – Learn to cook – by people who know how to cook.
Now please don't think of me as an uncharitable son. I loved my mother mightily and miss her to this day.  I have a great many reasons to thank her and my father.  One of those reasons is Twice Baked Potatoes!!
As a family we would often have regular baked potatoes.  They were easy for mom to make, just through them in the oven for and hour and put some margarine, salt and pepper on the table.  Feeding five rambunctious little monsters was no mean feat but my mother pulled it off every night.  One night in particular I noticed that the baked potatoes looked a little different.   As soon as the blessing was said I tucked right in and was pleasantly surprised.  If mothers receive validation for the efforts in the kitchen, from the praise of the family, my mother got free parking for a year that night. "Twice baked potatoes, Tom, that's what they are."  Yummmitty, yum yum.  All filled with cheese and bacon bits and  . . .  YUM!!
In honor and memory of my loving mother I share with you my approach at:
Twice Baked Potatoes
2  each       Large Russet Potatoes, bake at 350F for 1 hour
1/2 cup      Small Onion, diced and tossed into a saute' pan with a little olive oil
3  each      Cloves of Garlic, smashed and minced – toss into saute' with onions
1/2 cup      Diced Prosciutto – toss into saute'
1/4 cup      Dried Figs, diced – toss into saute'
Cook over medium heat for about 5 minutes then deglaze with
1/2 cup     Dry white wine
Reduce about 1 minute then add
1/2 cup      Sour Cream
Grate and add
1/2 cup      Manchego cheese – add to mix
1/4 cup      Parmesan cheese – add to mix
Cook for 1 minute then remove from heat
Salt and pepper as desired
When potatoes are done baking remove from oven and set a side to cool.  When cool split open tops and remove the flesh into a bowl. Reserve the skins intact. Add the contents of the saute' pan to bowl and mix.  Spoon mixture into reserved potato skins and bake at 350 until brown on top – about 15 minutes.
Serve hot!!
Eat well and Smile Often,
tj
p.s. I believe that was the night I uttered those now infamous words, "Food is my habitat!"
p.p.s. Well it is!!