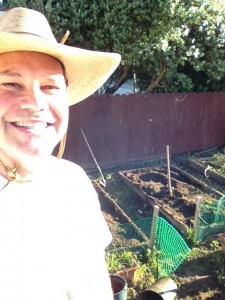 I think I'll name my next place Dig Inn!  A  little Farm-to-Table refuge sitting on just a few acres of dark rich soil with fruit trees and chickens and . . .
Wake up!  I've got that little place! It's only a quarter acre but the soil is rich and this season already looks promising.  Up before the sun, I dug up last year's planting beds and turned in some nutrient rich amendments to give the soil a strong start this season.  Plantings went in quickly and I look forward to my crop of Heirloom tomatoes, Romas, and Early Girls. Acorn, spaghetti and zucchini squash fill up the second bed. Red, gold, serrano and jalepeno peppers share the 3rd with a, soon to be, impressive wall of blue lake pole beans.  It's going to be a great year, I can just feel it.  Over the next few weeks I want to clear another patch of dirt to plant a bed of leafy greens, lay in a pumpkin patch and perhaps a few corn rows.  (Not those ones silly . . . Real corn rows.)
In a fantastic, totally unplanned, turn of events I am planting the same ground my grandfather planted 20+ years ago. My father grew up on a farm in North Dakota where my grandfather planted many things.  Truthfully the only stories I ever heard of farming were of the homemade beer bottles blowing up in the root cellar because of too much pressure.  No that 's not true, I do remember hearing about them putting up beans and tomatoes; making jellies and having fresh eggs. In any event, when he retired here in California he planted a garden in my Great Aunt's backyard. Now, so am I!!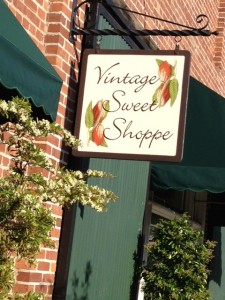 Plants all in and hands all washed Suzanne and I took the afternoon together and drove with the top down in her convertible to the town of Napa. Home of many great restaurants we decided to stroll the relatively new Riverfront development which houses Morimoto and Tyler Florence's Rotisserie and Wine, among others. On our way down the street my inner child's heart lept with joy as we came upon The Vintage Sweet Shoppe. The sweet smell of their confections reached out the front door and dragged us in by our lapels. Suzanne was good, saving herself for the promise of a rich meal and abstained. Me, I'm weak, a milk chocolate truffle and we're out the door.
Licking my lips we ambled down a half block to Angèle Restaurant & Bar in search of a cool, refreshing cocktail. Man! Did we hit the jackpot. Sitting down we notice the bartender assembling a delicious looking beverage with a sprig of Rosemary. We inquired and learned it was called a Diane Lane. Now I am most certainly a fan of Ms. Lane but I didn't know she attained such a status as to have a cocktail named after her. (I'm sure it's not posthumous!!) We order a Diane Lane and a Clear Conscience. The former made up with rosemary, lime, Swan's Neck Vodka and Bundaberg blood orange soda on the rocks; and the latter with muddled cucumber, ginger, orange, and vodka over ice. We kept swapping back and forth they tasted so good.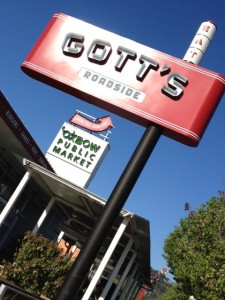 A pleasant little feeling-of-well-being surrounded us as we strolled along the river front on our way to find a coffee when we stumbled upon Gotts Roadside. A new favorite place of mine, that I recently discovered inside the Ferry Building in San Francisco, serves a mean burger and fries. Not wanting to spoil our dinner Suzanne and I cooled our heels in their air conditioned dining room sharing only some lovely, deeply fried french fries. Them and a pair of sodas and we were back on track.
Next stop Oxbow Public Market to Ritual Roasters for a lovely cup of Monte Rey from El Salavador. A warm, rich smooth cup of coffee. I perked up, we had an energized conversation on our walk to the restaurant and happily finished the weekend off sharing a pleasant meal with friends. I hope your weekend was as productive and relaxing as mine.
Eat Well and Smile Often!!
tj
p.s. Would you please pass me another Sunday??