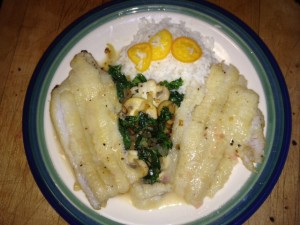 The man behind the counter asked, "How can I help you?" Who knew the chain of events that simple question would set into motion. "I'd like some sole please?" Just then, in what was obviously a hunger induced hallucination, James Brown came dancing by. I would have shaken it right off but I swear the produce man next to me was side shuffling to the beat in my head. I looked around; nobody else seemed to notice The Godfather of Soul, so I paid for my purchase and made good my exit before Isaac Hayes popped into view. (I'm a Soul Man . . . )
I tell you my muse rarely fails me, this time she hit on a winner. As you may recall I purchased a half pound of lovely butter, this last weekend, from the kind folks at McClelland's Dairy. What to do, what to do, what to do? A Beurre Blanc of course! And what better for this butter than a delicate bit of Dover Sole. My mouth all a water, I rushed to the kitchen and turned everything on! A busy meal for pots and pans but Wow, was it worth it.
I started with Jasmine rice cooked and topped with thin slices of bitter Mandarin oranges.
2 cups cold water Bring salt and water to a boil in a small sauce pan with lid
pinch of salt
1 cup Jasmine rice Add to boiling water, stir and return to boil, reduce heat to low
1 Mandarin Orange, bitter, sliced paper thin
Add 6 slices to top of rice water and cover, steam for about 12 minutes
Next on the stove was the Beurre Blanc. (You're going to love this!)
3 T Shallot, finely diced
1/2 C White wine vinegar
1/2 C White wine
Combine all 3 ingredients in a small sauté pan over medium-high heat and reduce to about 5 tablespoons in quantity. When reduced, remove from heat and let pan cool a bit
3 oz McClelland's Butter, soft, in pieces
Whisk in a 2 pieces at a time keeping sauce emulsified, reserving 1 oz to finish.
(if you see the butter separate your pan is too hot. Let the pan cool more before you finish)
Next I turned the oven to 350 F degrees and set out a plate with flour mixed with a bit of salt and pepper. A sauté pan on the stove on medium high heat with about 5 tablespoons of olive oil starting to shimmer was just right. I floured both sides of my Dover Sole filets and placed them meaty side down in the pan, moving them gently back and forth in the oil so they wouldn't stick. About 2 minutes later, when the had just started to turn golden, I flipped them in the pan and placed the pan in the oven for about 7 minutes.
On the chopping block came onions and mushrooms; which I quickly diced and sliced and tossed into yet another sauté pan hot with a fair amount of olive oil. After they started to sizzle and brown I dropped in chopped mustard greens, salt and pepper, tossed and took off the heat.
My lovely McClelland's butter was patiently, softly waiting and now its time had come. I placed the sauce back on the heat for a minute just until it started to steam, turned off the heat and dropped in the remaining ounce of soft butter and stirred. Careful, if the pan is too hot the butter will start to break, keep stirring in cold butter to keep it emulsified. I left a few solid pieces of butter sitting in the pan while I removed the sole from the oven. You can always add another piece of solid butter to pull the sauce back together again, if need be.
I set my plate with rice, greens and fish, whisked the Beurre Blanc to a sheen and drizzled it on top. I tell it was so good that I phoned my cooking buddy Suzanne with a full mouth and before she could say hello I blurted, "This is so good!"
She laughed, I ate, no more hallucinations. Later that night, I fell into a peaceful sleep humming to myself, "I'm a sole man. Did-it-good, oh so good. I'm a Sole man, do-do-do-doot!"
Eat Well and Smile Often,
tj
I will be performing at a live concert near you soon . . .