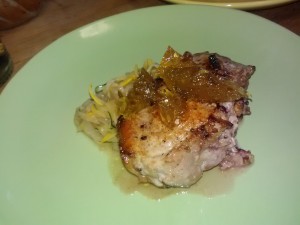 My niece Colleen is an amazing woman. Not too long ago over coffee she shared an insight with me about gift giving. "Most people appreciate an experience rather than a thing." She's right.  I remember most easily and warmly those times that I have received dinners, cocktails, gift certificates to the theater and the like from my family and friends.  So when a long time friend of mine recently reached 50 I decided to help her commemorate with a feast from my kitchen!  I call it Figgy Piggy.
In my back yard I have a fig tree that I know to be about 50 years old.  My father's aunt planted it and it still bears the most luscious figs twice a year.  This last week the first of the summer crop came in full force.  I picked as many as I could and invited friends over to help take away the plethora.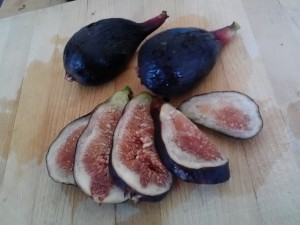 I like the ones that have almost dried on the tree.  They have that rich chewy texture with a mature fruit sweetness.  My dogs even like them.  Whatever falls on the ground is fair game to them. One summer I reduced a pan of them and made Burnt Fig Ice Cream.  A double yum and 20 minutes on the Ms. Right workout scale.
Something new this time I thought.  What goes good with figs I asked?  Pork, I answered. Pork chops to be precise.  Here is my recipe for Figgy Piggy.
Figgy Piggy
Mix in a bowl
2               Figs, ripe
1/4 c         Walnuts, toasted , chopped
4 oz           Feta cheese
dash          Apple Cider vinegar
Salt & Pepper to taste
Prepare the following by inserting a knife  into the side and cutting a pocket
2               Pork chops, 6 – 7 oz each
Stuff each pork chop with the fig mixture.  Close the openings with toothpicks.  Season the outside with salt and pepper. Place a light coat of olive oil on one side of each chop Using a saute pan that can go into the oven add:
2 oz          Olive oil
Set oven temp to 350 F.  Place saute pan with olive oil over high heat.  When oil starts to shimmer place both chops in the pan oil side down.  Brown for about 3 minutes then turn over.  Place pan into oven for about 20 minutes.  Check with a fork for doneness. (Honest to goodness – Doneness- is a culinary term.)
Serve with a teaspoon of Pepper Jelly on top!
I served it with strings of fresh zucchini and yellow squash from my garden saute'd in butter with salt pepper and a deglaze of white wine.  For dessert we had Vanilla Ice Cream, fresh Figs and Maple Syrup
It was a good meal and a great experience.  At least that's what she told me.
Eat Well and Smile Often!!
tj
p.s.  Maple syrup and figs? – The bomb!!