"Tell me what you eat, and I will tell you what you are."
(I guess it's not enough to be Tom-Fool but now I am Tom-Turkey too!!)
So says,Jean Anthelme Brillat-Savarin a lawyer and magistrate in France during the late 18th and early 19th century.  A prolific author, he is most known for his work Physiologie du Goût (The Physiology of Taste.)  This treatise of observations and meditations surrounding food and all things related had a tremendous impact on my education when I attended the California Culinary Academy in San Francisco.  His work was quoted often and shortly after graduation I was thrilled to read M.F.K. Fisher's translation while touring France in, what was by all definition, the world's smallest car with my best friend Dale Hill. (A story for another time.)  So subtle are his observations that they easily insinuate themselves into my everyday life.  My favorite quote of his is, "It is the responsibility of the host to provide for all of his guest's needs while they are under his roof."  This is the philosophy with which I govern my household and the foundation of my culinary style.
This writing also included more than a few anecdotes, which brings me to the point of this story: The preparation of Thanksgiving dinner.  Brillat-Savarin tells the tale of a man traveling the countryside in France stopping at an inn for the night.  Upon entering he notices 5 large turkeys being roasted in the hearth.  He asks the innkeeper for wine and turkey and in return receives this reply.
"I am sorry sir, I have no turkey to offer you."
"I see 5 turkeys on the spit right now."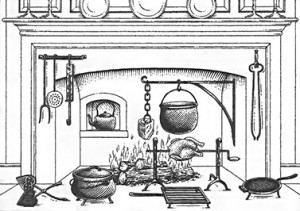 "Sir, these birds have been purchased by another gentleman.  He is due to return shortly, perhaps he will share them with you."
Some time later the man's son walks into the inn and the innkeeper says, "This is the gentleman who purchased all of my turkeys."
"Son, what do you need with 5 turkeys?"
"Father, you have always told me the most flavorful part of the turkey is the oyster. Since they are so small, I needed 5 birds to make a full meal!"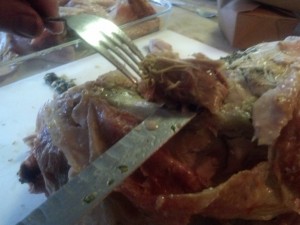 The oyster meat, for those of you who are unfamiliar with it, is located at the point where the thigh connects to the body of the turkey.  I recommend removing the legs and thighs first by cutting through the joints.  Flip the bird gently on to its breast and just above the point where the thighbone was connected to the body, there will be a small 'oyster' shaped piece of flesh that is very flavorful.  My suggestion: Don't tell any of your guests and save it for leftovers.
But Tom, you said this was An American Story!!
It is.  Turkeys were known in Europe but they were a much smaller bird.  It was not until the New World was discovered that American turkeys became all the rage. Brillat-Savarin became especially fond of them after he spent 3 years in Boston during the French Revolution.  This is one dish the we Americans have proudly given to the world. You may remember that Benjamin Franklin wanted to make the turkey our national bird! Take that bald eagle!!
Over the course of this week I will be posting recipes for preparing Thanksgiving dinner using simple, traditional French cooking techniques I learned, the way I learned them.  Please bookmark this page and keep your eyes open for how to roast a Thanksgiving turkey, prepare whipped potatoes, maple candied yams, traditional stuffing and more!!
I am looking forward to seeing you back soon.
Eat Well and Smile Often!!
tj
p.s. Gobble, gobble . . . Cluck??
Please click the Recommend button below.