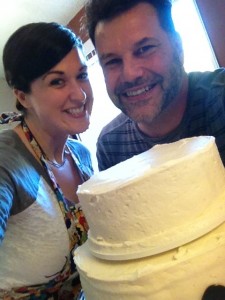 Fa-la-la-la-la, la-la-la-la.
Time to turn up the ovens and pull down the Betty Crocker; cook book that is.  I suggest flipping to the dirtiest, stuck together pages you can find and start mixing together those copious quantities of sugar, butter and flour that make all our holidays 'Oh So Yum!!'
I can smell it now, cuz t'is also the season to be smelling. I see it now. It all starts with a lone cinnamon or vanilla scented candle.  Then the cider on the stove kicks in with its whole cloves and slices of orange peel spinning and dancing in the heated swirls.
Cookies!! Oh the cookies, fresh from the oven. Chocolate chip, oatmeal and my all-time-favorite: Snickerdoodles!! "Why is it we only make snickerdoodles at the holidays?"  you ask. "Siiliness," I reply "Pure silliness."  Banana breads and fruit cakes begin showing up in the mail while food writers around the nation share their bestest recipes for turkeys and hams, potatoes and green beans, and sweet potatoes oh my!!  (Tune in next week for my tips on how to roast a perfect Thanksgiving turkey.)
And homemade candies like fudge and peanut brittle and those crispy little peanut butter balls my former mother-in-law used to make.   (I should have gotten that recipe.)  All dressed up on those pretty little plates that grandma keeps wrapped up and locked away all year because, "They are not for every day use Tommy, only special occasions "   And hard candies and Nuts!! Lots and lots of nuts.  Bowls, chock full of nuts and chocolates and, and, and (breathless) . . . bliss.
And Bells!! Those little holiday bells that jingle outside, everywhere, in the cold crisp air. And that one Farmer's Market vendor, 5 miles away but worth the trip, selling Chestnuts that were roasted on an open fire.  Ah, the holiday season is here at last.
The last weekend I didn't need to ask, "For Whom the Bells Tolls" the "Belle' tolled for me. The Belle being my charming niece Lindsay who got it in to her pretty-little-head to bake a 3 level, tiered cake for a dear friend's 40th birthday.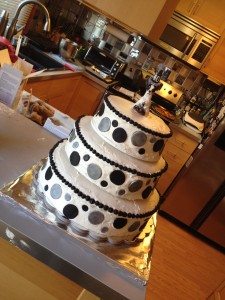 "Want to come bake a cake with your favorite niece?" she asked. When she asks like that, what am I supposed to say?
"No, and don't forget to leave my respirator plugged in until you are completely certain that I am brain dead. And NO, just because I watch the Simpsons that doesn't count as brain dead, just brain . . . "
Of course I said yes and we made quite a day of it.  MY bad it started off slowly. I forgot to set my alarm and not only did I arrive an hour and a half late I forgot a bag of newly purchased decorating supplies.  (What a putz of an uncle I am . . . Don't answer that.) After I arrived we decided to make the cake larger than I had anticipated so we sent Lindsay's charming, handsome, patient husband to the store to purchase 5 more boxes of cake mix and 4 more pounds of confectioners sugar. Oh! And 1 more pound of butter.  You can never have enough butter.  Now I do have a 'Binder Full' of cake recipes but sometimes it is quicker to use the packages.  The only difference is the pre-measured dry ingredients, everything else we added fresh. 3 cake pans, 8 boxes of cake mix, 2 dozen eggs, 5 pounds of sugar, 3 pounds of butter, 2 pounds of fondant and 1 special ordered, custom cut, cake-stacker later we had our mini masterpiece. (Please stay tuned for the Partridge-in-a-Pear-Tree recipe . . . What?? It could happen.)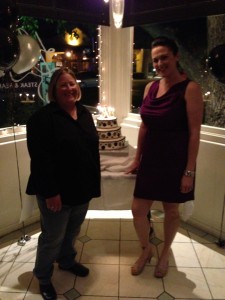 All credit for the decoration goes to my lovely niece. Her friend is an avid Raiders fan so 'Black and Silver' was the theme. Beyond honorable mention, super hubby Mark gets my vote for MVP.
The holidays are a fabulous time of year.  There is nothing like the cacophony of football and cooking, laughter and loving, too many cooks in the kitchen and lots and lots of leftovers!!  Many thanks to Lindsay and Mark for kick starting this season's baking frenzy for me. Note: I won't be posting any current pictures of myself until March of next year.  (You know why.)
Eat Well and Smile Often!!
tj
p.s. T'is the season to add poundage.Fa-la-la-la-la, la-la-la-la.
p.p.s. Count 'em, they're all there.
Please click the Facebook recommend button below.