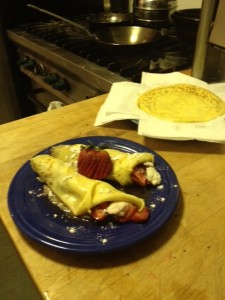 Mai Oui!! (pronounced in my kitchen, May Weeeeeee!!)
My father was a patient, intelligent, saint of a man and he proved this by making our family pancakes every Sunday morning. His techniques were unique to say the least. I remember one morning he fired up the dual waffle/pancake griddle and began to rub wax paper onto the surface. (Herein lies the genesis of my love for the science of cooking.) "Wax paper," I asked "shouldn't you be using butter?" He smiled that knowing, fatherly smile at me. The one that suggested that, even though my, age appropriate, test scores matched his I was still without a clue. Cluelessly I awaited a response.
"The wax is slippery and keeps the pancakes from sticking without using oil."  My father was a pharmacist and smart as a whip.  When I began to learn about emulsions in culinary school he helped me understand the similarities and differences of oil-in-water suspensions and water-in-oil suspensions. (It's a volume thing. Evidently size matters here too.)  Anyways, I asked about eating wax to which he replied, "A little wax never hurt anybody."  My mother raised an eyebrow, we ate the pancakes and the next Sunday he used butter.
Speaking of pancakes, Le French have a pancake of their own: La Crepe.  Thinking of my father, he was half French but never made us crepe, I set to the blender and stove to make this morning's breakfast: Fresh crepe with Grand Marnier Strawberries and Ricotta cheese. (It's okay to say Yum out loud.) It was yummy. Now crepes are not difficult, nor are they easy.  They require a medium skill level to prepare and just the right pan.  The great thing is that if you make enough batter you can practice, practice, practice and if you get 2 right, you can eat!
Crepe Batter
1.5 cups                flour, all purpose
1.5 cups                milk, 1%
3                            eggs, whole
3 Tbsp                   butter, melted
Mix all the ingredients in a blender for 30 seconds. Stop mixing and scrape down sides.  Continue mixing for 30 seconds more or until fully blended.  Pour into a jar and let stand covered for at least 1 hour.  This will let the bubbles settle out.
Cooking Crepes
1                              sauté pan, 6 – 9"; you may use Teflon it the surface is not marred at all   ¼ cup                    oil
For metal sauté pans:  Pour all of the oil into the pan and place on medium heat for about 3 minutes.  Do NOT walk away from the stove. As the oil starts to shimmer, gently rotate the pan so that the oil begins to coat up the sides of the pan.  Warm for one more minute then remove from the burner and let sit to cool.  (This process opens up the pores in the metal and allows the warm oil to slightly penetrate the pan creating a nonstick surface.) Pour cool oil into a container and set aside.
Warm the pan over medium heat until a drop of water spatters and evaporates immediately.  Pour 1 tablespoon of oil into the warm pan and ladle in enough batter to just coat the bottom. Lift the pan and rotate it to spread the batter up the sides just a bit.  Pour any excess back into the container for a nice thin crepe.  Work the edges gently with a spatula to keep from sticking and after the crepe sets, slide the pan back and forth so that the crepe slips in the pan.  When the edges turn brown flip the crepe with a spatula, cook for about 1 minute then slide onto a paper towel.  Wipe the pan with a clean towel and repeat until batter is finished alternately stacking crepe and paper towel.
The trick is to keep the pan heat just right; neither too hot nor too cool.
If wrapped well these will hold for about a week in the refrigerator or can be frozen.  Allow to warm to room temperature before using.
Grand Marnier Strawberries
2 dozen                  strawberries, quartered (sliced not fed and bedded.)
4 Tbsp                   sugar, white
4 Tbsp                   Grand Marnier
Mix all the ingredients in a bowl and let stand at least one hour.
Lay out a crepe. Dollop some Ricotta cheese and spoon some of the strawberries in a line.  Roll the edges over and turnover on to a plate.  Drizzle with the syrup from the strawberries and sprinkle with powdered sugar. Serve 2 at a time.
Eat Well and Smile Often,
tj
p.s. Let Eataly top that!