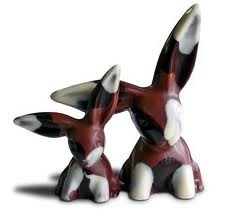 I hope you all had a lovely weekend, I did! I was up like a bunny, on a sunny Easter Sunday, woke my pal Suzanne, of Cooking By The Bay, and we hopped over to the Marin Farmer's Market. What a treat to go early on Sunday morning. No crowds; warm, waking sunshine; and so, so, many savory sweet smells coming from all the vendor's booths. At Suzanne's wise suggestion, we strolled the market first, greedily tasting samples of butters and chutneys and pestos. It was fabulous. By the time we made it to the end my hunger was in full, raging force and I swear I couldn't have taken another step if it wasn't for . . .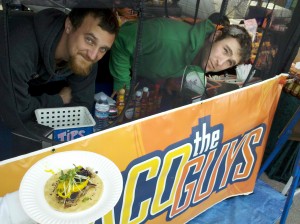 The Taco Guys!! These guys, in addition to being great cooks, are a hoot first thing in the morning. Both Jason Hoffman and Justin Close jumped to attention at our approach and handily whipped together a Kahlua Pork Taco for my Easter breakfast. Trimmed with julienne of mango and daikon greens, that sweet little beasty made me a happy man. Suzanne, declining more than a taste, was emphatic is stating, "Eggs, I need eggs, not piggy for breakfast." Ho hum . . . more for me.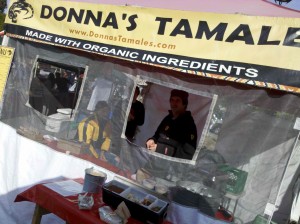 Next stop, Donna's Tamales for breakfast burritos! Suzanne immediately tucked into the rich, egg filled tortilla stuffed with salsa, peppers and more. I decided to change things up and opted for their Vegan burrito. Hers was delicious and warm, and egg-ily satisfying. Mine was good but I felt it needed more . . . zing. I chose from the salsa condiments they had available and popped them to the top. It spiced it up some. I would certainly eat their food again and look forward to the next time, as Suzanne's breakfast was, and I quote, – Scrump-dilly-icious! – unquote.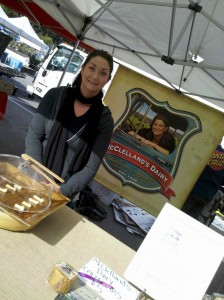 Always a sucker for a sample, this pleasant woman at McClellands' Dairy tempted me with a bit of butter on a bread stick. YUM!! I was fully intent on not breaking stride (more of a slow amble really but still a stride) but the creamy rich taste of this butter halted me in my tracks. Always hawkish when it comes to paying premium for a commodity I happily dug into my wallet to pay for a half pound of this bit of 'Oh So Golden' heaven. What has two thumbs and loves this butter? This guy!
All in all it was a great day to be out with my buddy Suze. Happily sated, we returned promptly to the sofa intent on doing nothing more all day. Nice Sunday . . . zzzzzz . . .
Eat Well and Smile Often!
tj
May I have a side of whipped cream with my bunny please?