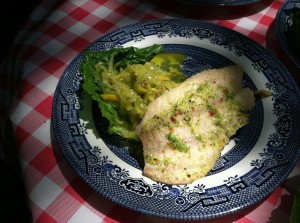 I had a great weekend spending time with my brothers and sisters, something we rarely get to do together. We laughed, we drank and we reminisced . . . but most of all we ate.  My brother and his lovely new bride started us off with Saturday breakfast of French toast casserole, frittata and fresh orange juice while my little sister nailed Huevos Rancheros for Sunday's breakfast. One of my older sisters made fabulous dinner reservations at a local little Italian eatery which left Saturday lunch for me.  Now those of you with siblings understand the rivalry and competition that occurs, especially, when adult children get together. This left me little room to prepare a so-so meal.
With a busy work week, a lovely visit with a high school friend and a long drive to Arnold ahead of me I didn't have time to go to my favorite little fish monger where the fish is fresh and the selections amazing.  Instead I was left to shop at the local supermarket and the only "Fresh" option available to me was Red Snapper.  (I probably do not need to point out that I placed the term Fresh in quotes, meaning of course . . .) So here I was with this great recipe for Orange Cilantro Marinated Snapper with an Onion, Zucchini and Yellow Squash salad and my snapper was not very snappy.
What to do?
Got milk??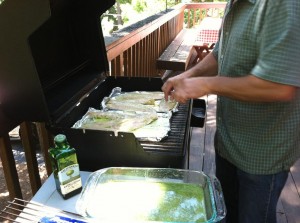 Time to pull a rabbit out of my hat. Now technically the fish I bought was fresh only because it hadn't been frozen but unfortunately it had not been stored correctly in the butcher's cooler leaving it slightly ripe.  Thankfully I paid attention in culinary school and a little hand-me-down from my French Cuisine chef Brian Mattingly came in handy. "If your fish is a day or two old, soak it in whole milk."  So along with my 3 pounds of fish I purchased a quart of whole milk.  After rinsing and de-boning the fillets I laid them in a Pyrex dish and covered them with the cold milk. Plastic wrap over the top and the dish went in to the refrigerator for an hour.  Fingers crossed I set to the marinade.
Snapper Marinade
1 bunch    Cilantro, leaves only – no stems
4               Red Jalapenos, seeded and chopped
3 tbsp.      Ginger, peeled and chopped
2 cups      Orange Juice
Place the first three ingredients in a blender and and start them blending on low. Pour the OJ into the blender in a thin stream just until all the ingredients begin to chop evenly. Blend for about 30 seconds then slowly add the remaining OJ. Reserve.
1 Hour Later – Time to check the fish.
Out of the fridge I uncover my dish and pour off the milk and voila, no more fishy fish. Thank you Chef Mattingly!
I let the fillets drip dry for about a minute, rinsed out the dish then poured a bit of marinade into the dish, laid in the fillets, covered then back in the fridge for another hour.
With the snapper soaking up all that Orange-Ginger goodness I set about making the Squash Onion salad. I thinly sliced the zucchini and yellow squash on a mandolin then cut them int thin julienne strips. Next I Lyonnaised an onion. (This is a style of onion slice that gives julienne thin threads.) A bit of olive oil in a saute pan and in go the onions. After they begin to soften I added the julienne of squash cooking them al dente. After seasoning with salt and pepper I set them aside to cool while I made the salad dressing.
Orange Ginger Salad Dressing
1/2 bunch   Cilantro, leaves only – no stems
4                 Red Jalapenos, seeded and chopped
3 tbsp.       Ginger, peeled and chopped
1/4 cup       Orange Juice concentrate
1 cup          Olive Oil
Place the first 4 ingredients in a blender and blend for about 1 minute. Slowly drizzle in the olive oil until fully incorporated.
Time for lunch!
I fired up the grill and set to cooking.  Delicate fish will often stick to the grill so I use aluminum foil pans with a bit of olive oil.  The grill adds a lovely smokey flavor that the oven just will not give.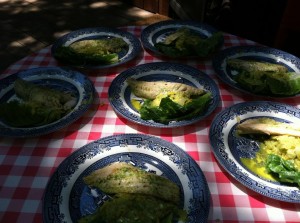 A bit of Romaine lettuce on the plate, toss the onion squash salad with the dressing and place on the lettuce.  Next the Grilled Snapper and a garnish of avocado and Voila!  (Trust me, my reputation was saved.) Even my sister who does not like fish liked this dish.
All in all it was a great weekend with family.  I hope you have many like this as well.
Eat Well and Smile Often!!
tj
p.s. The whole fish in milk thing . . . just another version of surf and turf.
Fish on the Grill