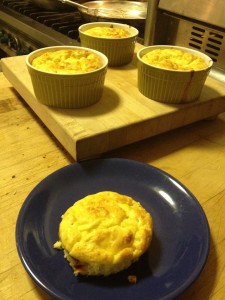 I did it, I did it, I did it!! I made soufflé!
Okay, it really wasn't that hard. I started off easy with a Leek and Goat cheese that utilizes a roux for structure. Traditional soufflés are just whipped egg yolks and whites folded together and promptly placed into a hot oven where they spring to life. Time and temperature are critical as the goal is not to overcook the outside while the middle rises and sets. The French have a specific culinary term for a soufflé that falls into the overcooked, flat in the middle, category, "Merde!" (The French are so unforgiving.)
I chose to go with 4 smaller ramekins rather than a large soufflé dish. This turned out to be very instructive as the disparate placement in my oven yielded varying results. The ones further most to the rear were browned on top, sides and bottom and completely cooked through. The front most were browned bottom and side but the top was just golden and the inside still had a pocket or raw mixture. Now I had been given this information before, that the front of the oven is cooler than the rear, but had never experienced it's effect like this before. I will admit to being unsure about the exact timing and opened the oven door a few times during the cooking process to inspect my little charges. Undoubtedly I released some heat altering the cooking times of each portion. Mea culpa.
All in all it was great fun and them little sucka's were mighty tasty! Total time to prepare . . . about 20 mins.
FYI: These soufflés must be served immediately out of the oven so timing is everything. As the French are want to say, "The soufflé waits for no king!"
Eat Well and Smile Often,
tj
Below is the recipe forwarded to me by Suzanne of Cooking by the Bay.
Goat Cheese and Leek Souffles Serves 6
1 tablespoon olive oil
3 leeks, white and light green parts only, thinly sliced in half moons
1 ½ cups hot milk
2 tablespoons butter
3 tablespoons flour
¼ teaspoon freshly grated nutmeg
Pinch cayenne
Pinch each salt and pepper
4 ounces goat cheese
2 eggs separated, yolks lightly beaten
Melted butter for ramekins
¼ cup panko
2 additional egg whites
• Preheat oven to 400°.
• Heat olive oil in a large skillet and sauté leeks until tender, about 4-5 minutes. Remove from heat.
• Melt butter in a saucepan and whisk in the flour, stirring 1-2 minutes to create a roux.
• Gradually whisk in the hot milk stirring constantly to create a thick sauce, about 2 minutes.
• Season with cayenne, nutmeg, salt and pepper.
• Transfer to a large bowl, whisking to cool slightly, and add leeks, goat cheese and egg yolks.
• Brush ramekins with melted butter and coat with panko.
• Whisk the 4 egg whites (or use electric mixer) until soft peaks form.
• Quickly, but gently fold 1/4 of the whites into the base with a rubber spatula.
• Fold in the remaining whites taking care not to overmix.
• Divide the batter among the prepared ramekins, place int he oven and immediately turn the temperature down to 350° and bake until golden, puffed, and just set in the center, about 30 minutes.
• Serve immediately in ramekins, or use a knife to cut soufflés out and place on plate.
p.s. May I have some more?