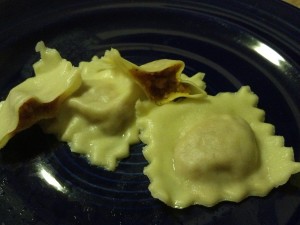 I am not a Master Chef but I am a pretty good cook with plans to open a pizza/bakery/fresh pasta establishment in the near future.  To that end, I set to a recipe for homemade ravioli. To maintain a purist bent I went with a seasonal buttternut squash filling.  Roasted squash, maple syrup, fresh nutmeg, a touch of cream, salt, pepper and a splash of apple cider vinegar just because. Very tasty indeed.
Now for the fun part: Fresh Pasta!!
I broke out my handy, dandy Marcato Atlas pasta machine. In my opinion the optional motor drive is the way to go.  Hand cranking . . . eh . . . motor drive . . . oh yeah!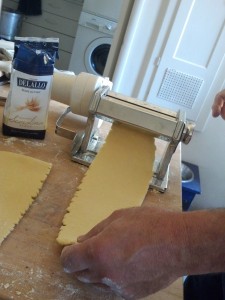 You can see the package of Semolina Flour in the picture above. Semolina flour is ground from the endosperm of the hard durum wheat berry. It is the perfect flour for your pasta making due to its very high levels of protein and cellulose (the substance that helps keep the cooked pasta firm).  I chose to follow the recipe on the package which called for equal parts AP flour and Semolina.  The package called for 6 large eggs to be added.  All I have are medium sized eggs and the dough was a little dry to start. (I'm okay. I have a healthy self image.)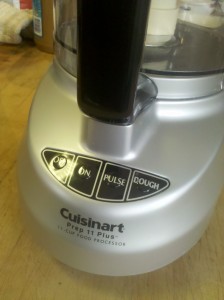 I tried to mix the dough in my new Cuisinart food processor which sports a dough kneading feature. In Cuisinart's DVD it works great with baguettes and soft doughs but not so much with this pasta recipe.  So I took extra time and care running the dough through the pasta rollers, on the widest settings, until I got a smooth elastic sheet to make my raviolis.  I would insert the dough into the rollers and collect it as it came out. After folding it into thirds I would would reintroduce the pasta to the rollers (Rollers – Pasta, Pasta – Rollers) at a 90° angle. I spent about half and hour running sheets through the rollers to get the right consistency.  Next time I'll use my mixer with a dough hook.
Lesson learned.
Filling these little beatsies took a gentle hand as too much filling spills on to the sealing edges and can cause a blow out when boiling.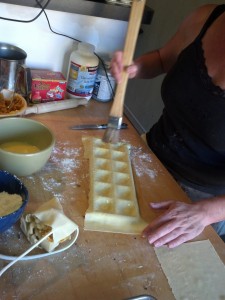 After placing a sheet of pasta on the ravioli mold and making the depressions for the filling, egg wash is required. We applied this to the entire surface of the bottom and top sheet of pasta. This is literally the glue that binds the two together.  A little gentle pressing with the hands then a roller to cut the edges and voila!  Ravioli, Tom Fool Cookery style.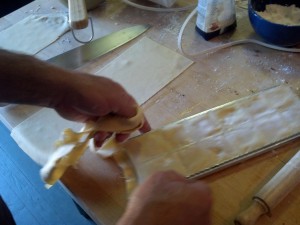 I cooked these little guys in gently boiling salted water until they float evenly on the surface. Using a small strainer I fished them gently from the water, tapped the strainer bottom on a towel to remove excess moisture then plated them up!  Hmm, perhaps a little brown butter to top them off. What do you think?
Eat Well and Smile Often!!
tj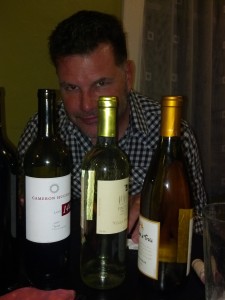 p.s. I suggest enjoying them with a little wine.